We want to hear about your experience with your student's education. We invite you to participate in completing the School Climate Survey. This survey includes questions about your student's learning, school safety, and interpersonal relationships, as well as your attitudes about the institutional environment and your personal involvement in school. Your responses will be very helpful in improving student relationships, learning conditions, and the overall school environment.
https://drive.google.com/file/d/1QvBONH6KUL0oV3aA_PMsVTQq9kvFaxV-/view?usp=drive_link

Have questions about the budget? Please complete the FAQ Google Form and we will post the answers in the FAQ Answer Sheet Link to Form and FAQ:
https://www.rsu4.org/page/budget

RSU4 Budget FY24: Upcoming Meetings September 20th ~ Public Budget Meeting Oak Hill High School @ 6:30 pm October 3rd ~ Referendum Vote (Local Polling Places)

School Board Budget Meeting Thursday, July 27, 2023 6:30 pm at Oak Hill High School

Join the OHMS Team! We are looking for an amazing 6th Grade Science Teacher and a caring Social Worker to work with our 5th -8th Grade Students Please contact Amy St. Pierre, Principal at OHMS for more information!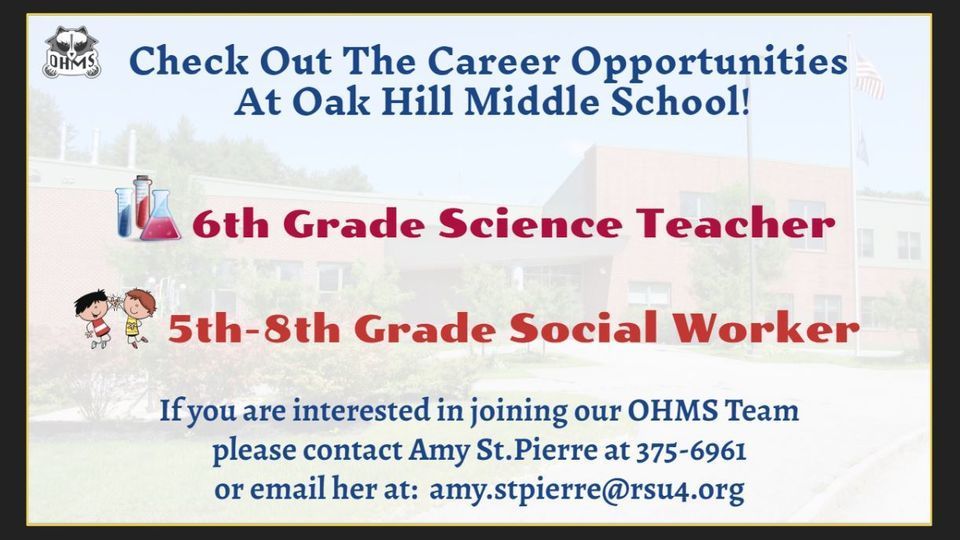 OHHS needs volunteer Football Coaches! Contact Brian Daniels, Director of Athletics

COMMUNITY CARES BACKPACK PROGRAM PRESENTS THE SECOND ANNUAL COMMUNITY RESOURCE FAIR Sunday, April 30th, 11am - 3pm, Oak Hill Middle School

Looking for OHHS Alumni to interview for the Oak Hill Middle School Raider Roundup School Newspaper

April 11th - Tonight is the NIGHT! Take the time to learn about Financial Aid for your College bound student! 5:30 tonight at OHHS